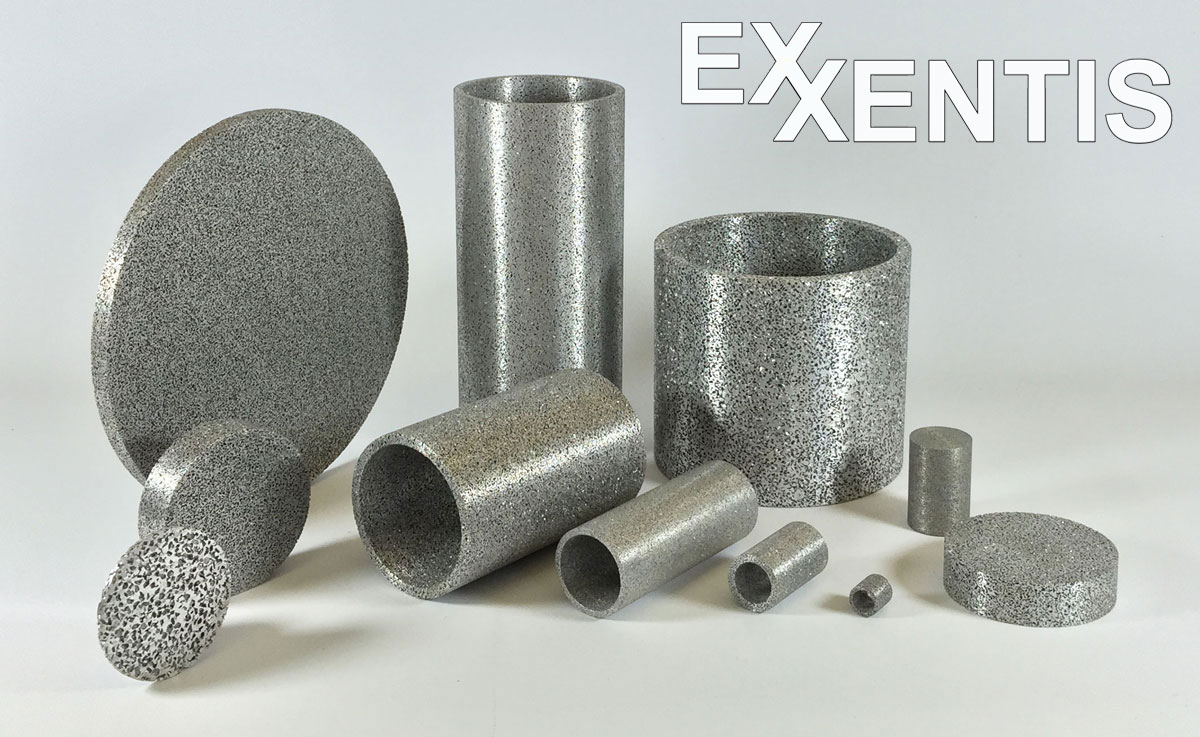 We manufacture cylinders of porous aluminium in a wide variety of possible configurations: cylinders can be implemented with or without an inner diameter, in various lengths, with different pore sizes according to your individual requirements. For more information regarding different pore sizes and material properties, please see the page "Properties of porous aluminium".
In the below table only few examples of manufactured cylinders are presented.
Due to the broad range of implementing dimensions and pore sizes, as well as our desire to offer the best solution for your individual task, all products of porous aluminium will be manufactured on request, except of material samples with dimensions 90 x 165 x 6 mm which are available on our stock in Switzerland and can be applied for your first acquaintance with the material.
| | |
| --- | --- |
| Order No. | o.D.  x  i.d.  x  length (mm) |
| FEC 30 – 100 | 30 x 22 x 100 |
| FEC 30 – 200 | 30 x 22 x 200 |
| FEC 35 – 50 | 35 х 29,6 х 50 |
| FEC 40 – 200 | 40 x 32 x 200 |
| FEC 55 – 195 | 55 x 45 x 195 |
| FEC 60 – 100 | 60 x 50 x 100 |
| FEC 60 – 200 | 60 x 50 x 200 |
| FEC 70 – 120 | 70 x 60 x 120 |
| FEC 70 – 230 | 70 x 60 x 230 |
| FEC 74 – 126 | 74 x 66 x 126 |
| FEC 85 – 107 | 85 x 75 x 107 |
| FEC 85 – 164 | 85 x 75 x 164 |
| FEC 90 – 170 | 90 x 80 x 170 |
| FEC 90 – 200 | 90 x 80 x 200 |

| | |
| --- | --- |
| Order No. | o.D.  x  i.d.  x  length (mm) |
| FEC 94 – 199 | 94 x 80 x 200 |
| FEC 100 – 200 | 100 x 90 x 200 |
| FEC 105 – 100 | 105 x 95 x 100 |
| FEC 110 – 100 | 110 x 95 x 100 |
| FEC 110-200 | 110 x 98 x 200 |
| FEC 135-100 | 135 x 120 x 100 |
| FEC 135-120 | 135 x 120 x 120 |
| FEC 135-220 | 135 x 120 x 220 |
| FEC 135-340 | 135 x 120 x 340 |
| FEC 150-370 | 150 x 135 x 370 |
| FEC 161-287 | 161 x 139 x 287 |
| FEC 170-270 | 170 x 160 x 270 |
| FEC 175-250 | 175 x 160 x 250 |
| FEC 300-400 | 300 x 280 x 400 |
Product samples: