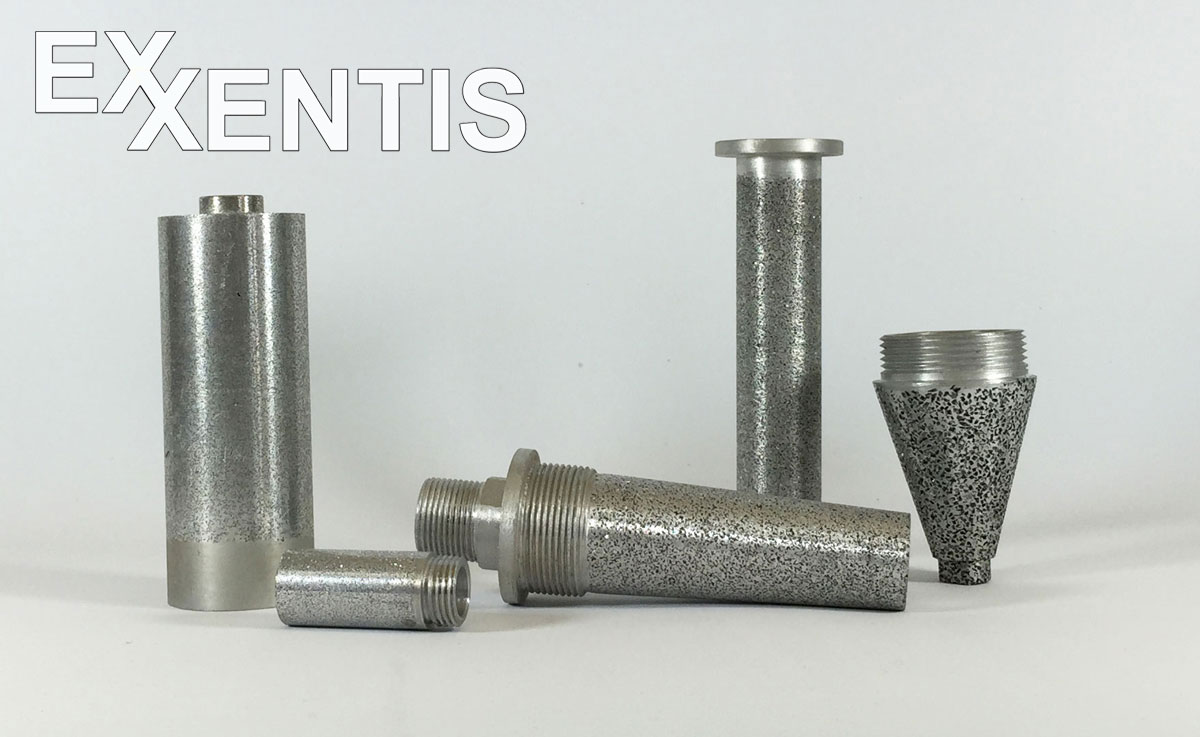 According to custom requirements we manufacture products made of porous aluminium together with a non porous part of solid aluminium; both parts will be cast in one peace and have a strong monolithic structure.
Generally the part of solid aluminium will be applied for the implementation of a fastening element such as thread or flange. Such fastening element has a higher strength in comparison to a fasting element made of porous aluminium. However, the part implemented of solid aluminium may be applied not only as a fasting element but for any other needs according to your demand.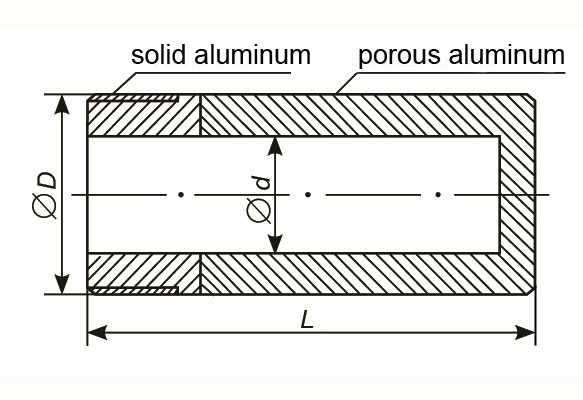 Standard porous aluminium cylinders with solid aluminium thread are presented in the table below.
Please consider that due to the broad range of available pore sizes all products will be manufactured on the customer orders. More information to the different pore sizes you will find on the page "Properties of porous aluminium".
We manufacture products in all possible forms and dimensions according to your request, please contact us, we will be pleased to assist you.
| | | | | |
| --- | --- | --- | --- | --- |
| Order-No. | Thread | D (mm) | d (mm) | L (mm) |
| G 1/8″ | G 1/8″ | 10 | 4 | 40 |
| G 1/4″ F | G 1/4″ | 15 | 7 | 28 |
| G 1/4″ | G 1/4″ | 14 | 8 | 55 |
| G 3/8″ | G 3/8″ | 17 | 9 | 80 |
| G 1/2″ F | G 1/2″ | 23 | 14,4 | 42 |
| G 1/2″ | G 1/2″ | 21 | 13 | 104 |
| G 3/4″ | G 3/4″ | 27 | 17 | 125 |
| G 1″ | G 1″ | 39 | 25 | 110 |
| G 1″ x 177 | G 1″ | 41 | 25 | 177 |
| G 1 1/2″ | G 1 1/2″ | 44 | 36 | 190 |
| G 2″ | G 2″ | 72 | 60 | 200 |
| G 1/40 | G 1/40″ | 39 | 25 | 185 |
Product samples: