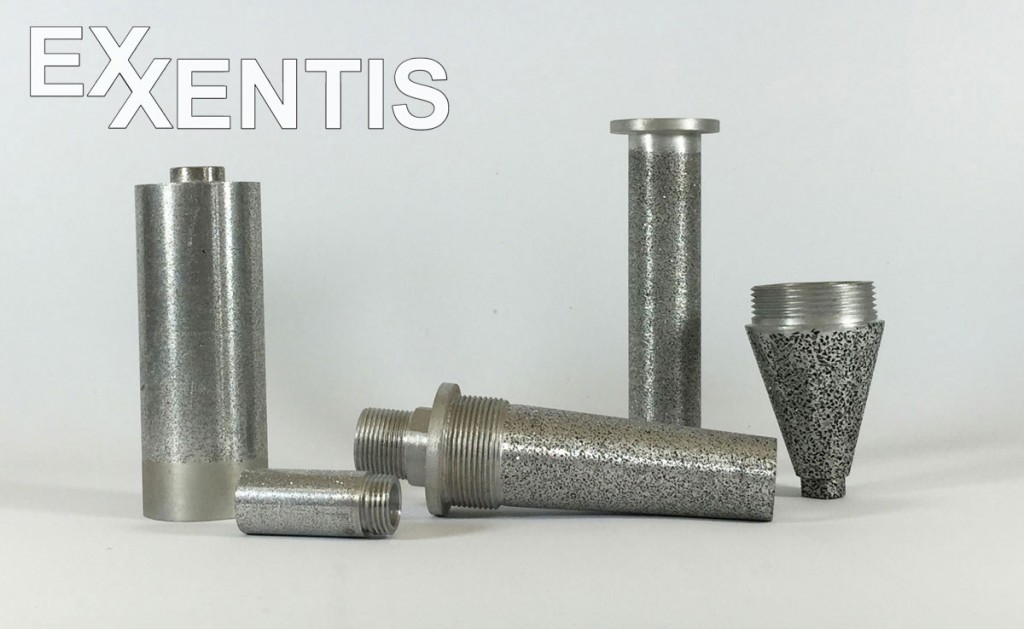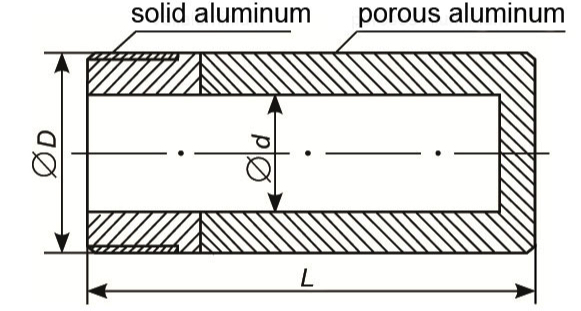 We manufacture porous aluminium products according to customer specifications with solid aluminium parts; both components are cast in one piece and have a strong monolithic bond.
Usually, the solid aluminium part is used to implement a fastener, such as a thread or flange. Such fasteners have a higher strength compared to a porous aluminium fitting. However, solid aluminium parts can be used not only as fasteners, but also for other possible requirements, according to your requirements and wishes.
Some of our porous aluminium cylinders with solid aluminium threads are presented in the table below. Please note that due to the wide range of pore sizes available, all products are manufactured to customer specifications. Further information on the different pore sizes can be found on the page "Properties of porous aluminium".
We manufacture products in all possible shapes and sizes according to your requirements. Please contact us, we will be happy to advise you at any time.
| | | | | |
| --- | --- | --- | --- | --- |
| Type | Thread | D mm | d mm | L mm |
| PST 18-M | G1/8″ | 10 | 4 | 25 |
| PST 18-L | G1/8″ | 10 | 4 | 40 |
| PST 14-M | G1/4″ | 14 | 8 | 30 |
| PST 14-L | G1/4″ | 14 | 8 | 37 |
| PST 38-M | G3/8″ | 17 | 11 | 50 |
| PST 38-L | G3/8″ | 17 | 11 | 80 |
| PST 12-M | G1/2″ | 23 | 13 | 60 |
| PST 12-L | G1/2″ | 23 | 13 | 90 |
| PST 34-M | G3/4″ | 34 | 24 | 65 |
| PST 34-L | G3/4″ | 34 | 24 | 137 |
| PST 1-M | G1″ | 42 | 30 | 70 |
| PST 1-L | G1″ | 42 | 30 | 169 |